Post by Violet Viper x on Sept 17, 2019 10:38:02 GMT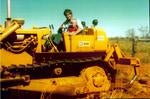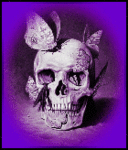 I put a lot of effort into making the invites look nice, not so much on the wording!
I don't know much about what looks nice or doesn't but to my eyes it looks professionally done. The colour pallet is surprisingly easy on my eye and works really well. The choice of font is easy to read and contrasts well with the background and the spacing and font size while is variable, doesn't look awkward and out of place I don't know what font it is but I do like it and while it's very different and the violet is a different hue, for some reason, being a chocoholic it feels close enough that I now fancy some Cadbury Dairy Milk Chocolate. Yay for marketing.
I'm sorry to say that I don't understand skulls. I'm not used to seeing them associated with weddings or positive things but am curious if the skulls and roses are symbolic of lows and highs experienced through the journey of marriage or in a pairing like that. Maybe the rose represents the love and support and the skull represents the person who needs it, whomever that may be at whatever time, an extension of supporting each other "through thick(roses) and thin(skulls)", hard times(skulls), good times(roses)?. I suspect it's supposed to represent a duality of some sort. I'm just not sure I'm interpreting it correctly. I may be reading way too much into it and it may just be, because it looks cool.
While I won't be attending for mostly financial reasons, I appreciate the sentiment of you extending the invite. I hope that the 21st October is filled with much love and joy with a few memorable but very pleasant surprises thrown in.
The font, I think, is Black Chancery. I felt like it was a nice fit for the style of the invite. Lol, Cadbury purple is my favourite shade of purple. It makes me happy (probably because of the chocolate inside the wrapper)
Skulls are cool. If you want to put meaning to the skull and rose, the way I would interpret it would be the rose for love and the skull for death. Marriage is supposed to be "until death do us part" after all. But mostly, I just like them

Thanks for the kind words. Hopefully it will be a nice day, but I will also be relieved when it is all over. I'm not one of these girls that has dreamed of her wedding since she was a little girl. All the organising stuff is way too stressful. I just wanted to sign our names on some paper then go get a bunch of cocktails. R35T wouldn't let me.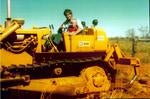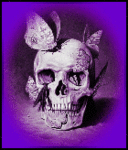 Crikey! While not exactly the same thing, here's something similar to what was going through my mind.
Some of that is Bill and Ted, right? I've not seen that film either.